11 Tools to Integrate Magento with Power BI
There are multiple software vendors that connect everything to everything. Since a big part of BI is data preparation and data modeling, those tools may often miss the essential parts and may not offer a complete solution.
They might help the IT Team to make a next step, but there will still be a lot of manual work left to do, before you can actually start creating valuable reports.
Some companies may also prefer to implement everything from scratch. The BI and reporting is an area where it is very easy to underestimate the efforts. So, those companies will spend more money and more time.
At the end there will be a long journey left before they will ensure the right quality of data and can start to trust the numbers that the reports are showing.
But today, we have prepared only the best tools and reporting solutions for you. Bring your Magento store's data to Power BI Microsoft today for better reporting and analysis experience tomorrow!
Power BI Connector developed by acSoft Inc has the following benefits:
Power BI Connector is user-friendly, with customization options to fit your skill level and need.
Power BI Connector supports a wide range of Magento data configuration to export any field you wish.
Reliable Customer Support is available for your convenience;
Free accounts with 1 GB of storage limit and 10K rows/hour for streaming data.
The exported information are: orders & items ordered, items and goods from your Magento BI shop with product views and reviews, items in the customer's cart/abandoned carts.
2. Skyvia: Magento Store's Data in Power BI Reporting
Skyvia loads Magento info with clients' credentials and ID profiles, all peculiarities about your orders and invoice transactions, as well as products data to a database or a cloud server of your choice.
There are two ways for data fetching: ELT (replication) and ETL (import). Let's learn the difference.
ELT is mostly used for cloud warehouses. The data here is copied as-is, meaning that the rest analysis will be done via database server.
ETL process of data fetching presumes that it should be transformed before the actual loading process into target database begins. In such a case, a schema for OLAP might be built by Magento merchant. Or the user has already have the target tables for the further data processing.
The platform supports many popular CRMs for e-commerce activities.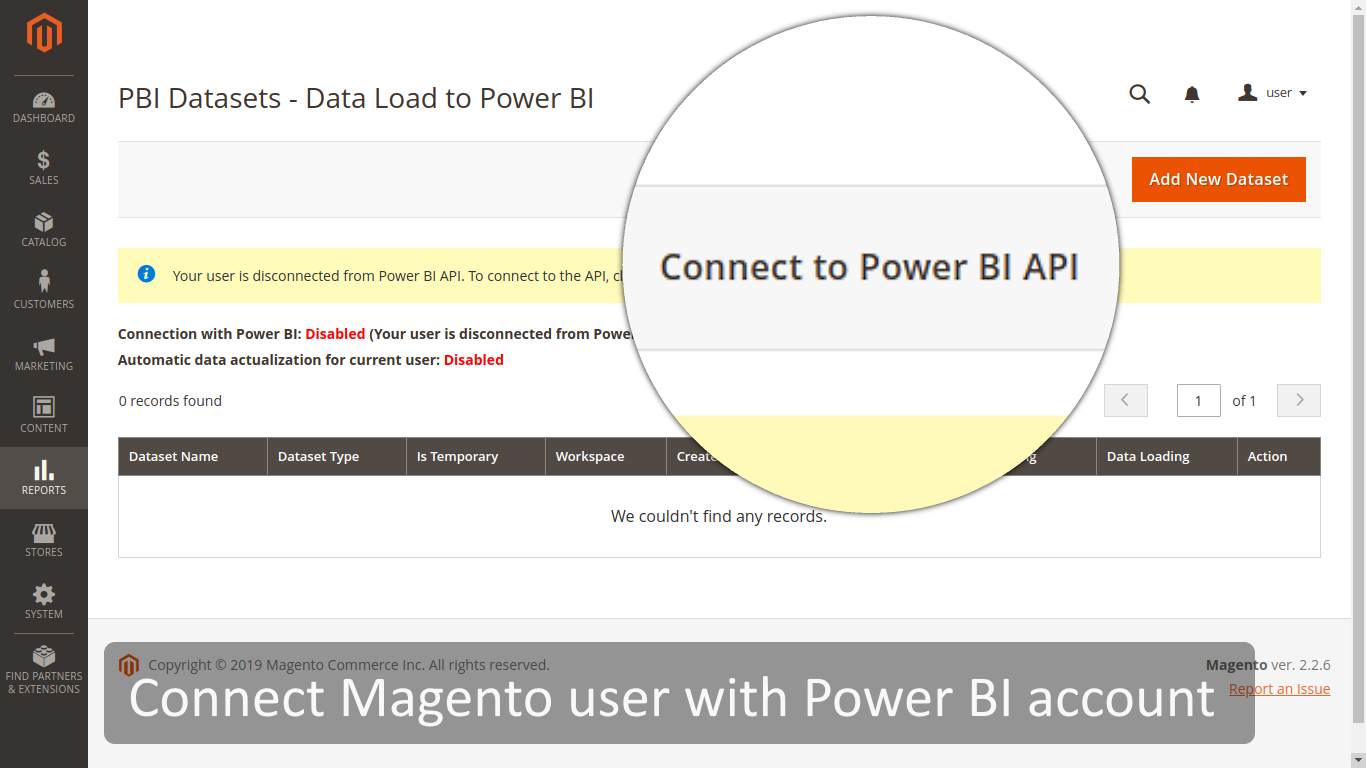 If you want to have full control of your Magento store, you will need a modern BI monitoring tool for the best reporting and analytical purposes. Power BI Sales Cube Extension for your shop running on Magento is a fullest version of the software that will cover all your business needs.
Integrated with third party Power BI analytical tools, buying this product you will be fully back-upped with all modern reports with sophisticated design.
This Magento BI extension developed by Kyrylo Kostiukov will allow you to:
Build custom BI reports with a drag and drop comprehensive interface.
Your custom reports will be accessible on your smartphone too;
Data actualization and refreshing;
Expand your data model applying custom calculated measures - DAX (Data Analysis Expressions);
Reports you create in Power BI service using the best Magento reporting extension can be saved in Power BI (a third party tool) & shared via your teammates.
Benefits:
data modeling part;
alternative logic of a sales cube - an extensive data-set for your best sales;
25 ready made sample reports;
mobile friendly;
supports creation of custom workspaces, separate for each user;
enables Power BI content in the Magento admin panel;
simple drag and drop report creation feature;
allows for building unique reports & dashboards without any technical knowledge applied.
4. DataSights: Magento BI to Power BI Connector
This DataSights Magento BI to Microsoft Power BI Connector works very simple and resembles another solutions described in this post.
In order for DataSights to start working you need to:
link Magento to a data-hub of your choice;
and the tool then will do everything automatically;
enjoy building beautiful and comprehensive reports.
5. Cdata: Magento Connector to Power BI
No-coding linking of Microsoft Power BI with live Magento data for your perfect visual analysis & reporting.
Features:
Real-Time Data Access (DirectQuery) - fast and secure data loading and refreshing solution;
Full Metadata Discovery for quickly eliminate drawbacks and generate more profit from your Magento store;
Robust SQL-92 Support.
CData Magento Connector has an embedded SQL Engine that makes the complex query data processing available for Magento BI admins. Preventing clients from seeing the information that is considered unnecessary for them.
6. TheKitchenSync: Raw Data in Microsoft Power BI Tool
For you to use this very service, you need to connect you Magento shop to SyncHub service. Then the KitchenSync will process all the rest automatically. After this is done, SQL Database Connector in Power BI will link your data store for creating stunning dashboards and reports.
7. Alumio: Integrate Magento to Power BI
Alumio's cloud-based platform is a fully-serviced iPaaS enabling an easy connection between Magento shop and Power BI.
Key Features:
Link Magento to Power BI using APIs - the graphic user interface enables the APIs interconnection of Magento and Power BI;
Modify & transform the data retrieved, use metrics, measures, apply filters of your choice for developing the relevant report that will cover all your business needs;
Stay alerted on integration errors or API conflicts - by the use of Alumio's in-built monitoring logging system detect and troubleshoot any undesired interference.
8. Pipes: Magento Store's Data for BI Reporting
Pipes allows the user to choose a data warehouse. After the decision of the preferred data store is made, connect it to Pipes. Then, connect your Magento store by inputting your Magento API. Further, make a pipeline from Magento to the data warehouse of your choice. The pipeline will start running automatically basing the data re-refreshing process on the schedule set by you manually.
In such a way, your data for Magento 2 business intelligence reporting will be always fresh and relevant.
With Pipes service a Magento merchant will benefit from:
200+ of data sources to connect;
allows for fully automated data workflows integration;
enables data-driven decision making - KPIs can now be measured across different systems.
9. Adverity: Embedded Data Platform Tool
This tool has in its arsenal more than 600+ connecting and integrating options. It provides an intelligence eCommerce Magento to Power BI analytics too.
The image below shows how this platform integrates with Power BI:
10. OWOX: Tool to Collect, Normalize & Prepare Reports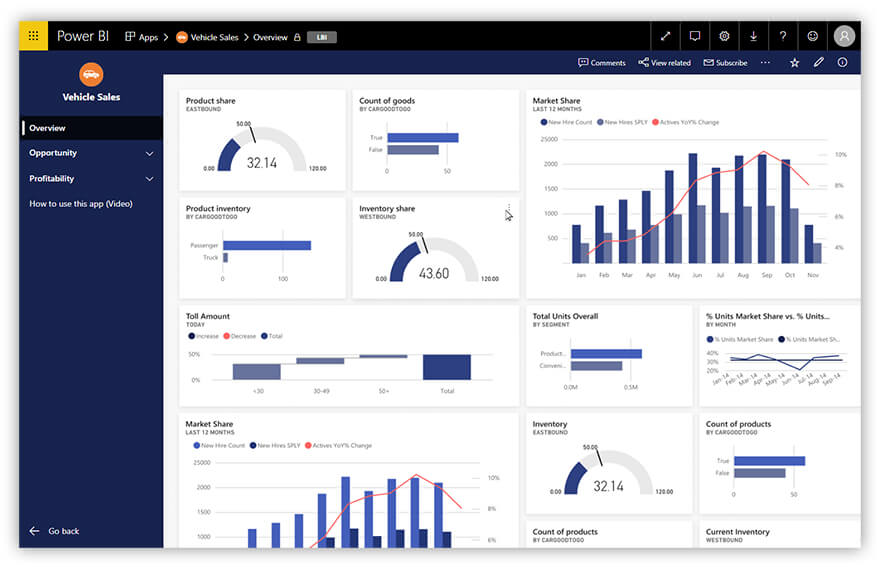 OWOX connector gathers the data on an automate manner from all your marketing Ecommerce sources:
Advertising platforms
CRM systems
Other marketing sources your company uses.
After the process of collecting the data is done successfully, OWOX BI gives you the material that is fully prepared & ready for further analysis and beautiful Power BI report creation.
Peculiarities of OWOX:
Intuitive data schema with all required fields;
Dynamic parameters, short links, UTM tags mistakes are also can be easily traced and eliminated;
Currency conversion analysis available;
Empowered with a new-era Bot detection system for your quick and precise reaction.
11. ReportServer: Magento 2 Business Intelligence Suite
ReportServer is an open source software under the aGPL. Despite that the tool is fully ready to be used by huge enterprises.
Here, all objects have an hierarchical structure. It makes the assigning various rights and permissions available to Magento admins for the whole sub-trees. In such a way different user groups may be created too. Then, the value of each user can be requested at the time of an analysis creation and may be used to limit the data returned.
In addition to that, ReportServer can be implemented as a Single-Sign-On solution within the IT-infrastructure.